Our outstanding team is here to help you reach your healthcare goals. Contact us today.
Welcome to Maximum Chiropractic located in Eureka. Chiropractic is one of the most amazing healthcare professions, but very few people understand what it's all about. We are here to help you gain a basic understanding of how our Eureka chiropractors can help you and your family.
Welcome to Maximum Chiropractic
At Maximum Chiropractic, we focus on a unique are in chiropractic called Structural Correction.
Our state-of-the-art exam uses a 4-point criteria system to detect underlying Structural Shifts in the spine. Quite often a Structural Shift will lead to your "symptoms"- or what we refer to as Secondary Conditions.
Our unique approach
We look at the spine as a structural engineer would do to a building that was having foundational issues. We take an objective approach to your spine and nervous system. By getting objective and precise measurements on your spine, it allows us to deliver a very efficient and effective correction to help your body get back to optimal fuction.
We thank your for visiting and we hope you enjoy the information within and share it with others.
OFFICE HOURS
Monday
10:00am - 6:00pm

---
Tuesday
2:00pm - 6:00pm
---
Wednesday
10:00am - 6:00pm
---
Thursday
10:00am - 6:00pm
---
Friday
Closed
---
Saturday
Closed
a
Maximum Chiropractic
131 South Central Avenue
Eureka, MO 63025
(636) 938-4414
Think of your spine as the foundation for a building. If your house was not sitting properly on its foundation, would you expect the floors to creak, the walls to crack, and windows to work smoothly or not so smoothly? Now you can spend time patching all the secondary effects from the shift in the foundation, but you would be doing so with the expectation that in a short time the problems will have to be…..?
…repaired again…and again…
And suddenly instead of achieving a true correction, we're relying on chiropractic like a band-aid getting us from one day to the next! Eventually, we become a pretty expensive Tylenol!
In the vast majority of patients that find a way to our office, the issue is a significant Structural Shift. These patients are often referred to us by medical doctors and even other chiropractors because of the uniqueness of what we do. The Structural Shifts are the underlying causes that often reveal themselves as "symptoms" – or what Structural Doctors refer to as Secondary Conditions. Structural Correction focuses exclusively on the correction of the underlying cause – Structural Shifts.
HOW WE MAY BE ABLE TO HELP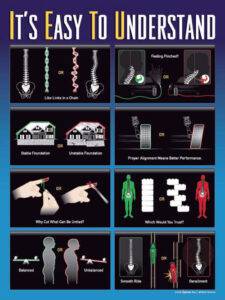 At Maximum Chiropractic our focus is Structural Correction of the spine. We use very specific chiropractic adjustments in order to improve/correct a structural shift of the spine. We look for a significant three-dimensional shift of the spine away from normal. These shifts cause muscles to spasm and discs and ligaments to become damaged, allowing the spinal bones to shift into abnormal positions leading to the damage of the nervous system.
In the Private Consultation we will explain exactly how we are different from traditional chiropractic and how an underlying Structural Shift (if detected during your examination) is directly attributable to your condition, and how specific chiropractic adjustments can correct the shift.
If we find that you have a structural shift, we will make a recommendation for a plan of care that is specifically designed to address your condition.
Components of the Gonstead System